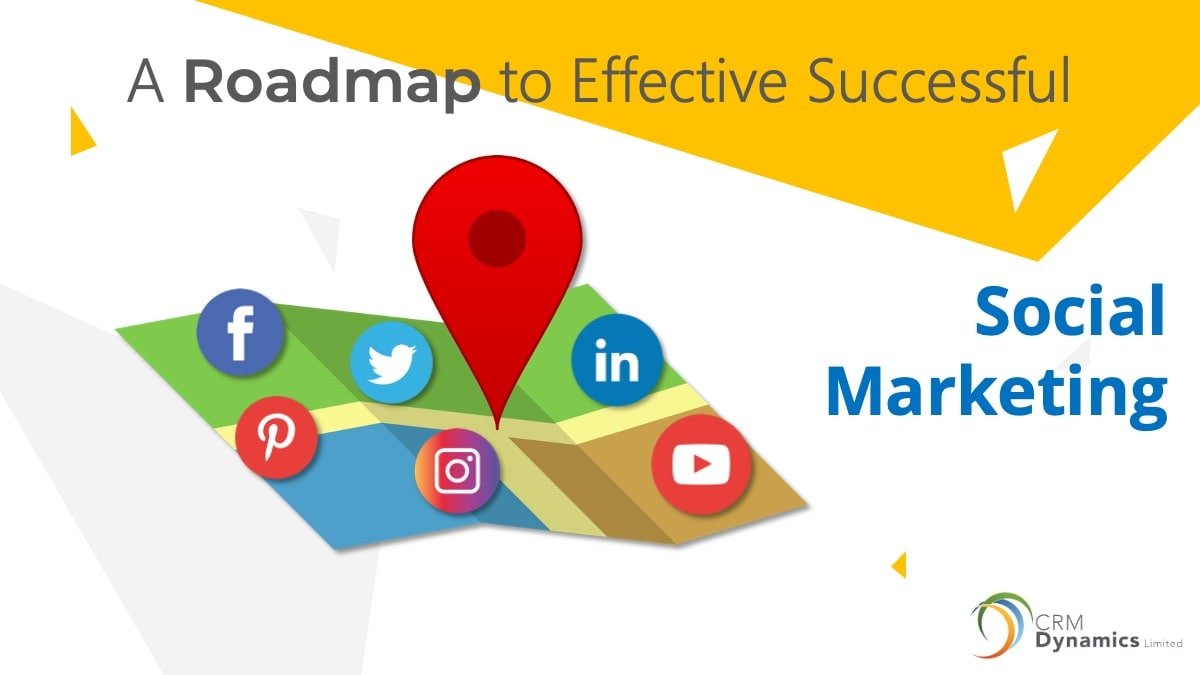 22 Aug

A Roadmap to Effective Successful Social Marketing – Have you done it right?

Nowadays, it seems that almost everyone is on social media, so many businesses are also shifting their marketing focus to social media. But not many really know how best to use it.

As a business, there is no doubt that implementing social marketing is the right thing to do. Exploiting the right tool for social media marketing is essential, social media marketing is an accessible and common marketing strategy for businesses to reach their target customers.
Preparing for Effective Social Marketing
The first thing a business needs to consider is their positioning in social media, based on the following criteria:
• Product Type: Tangible / Intangible, High-end / Low-end
• Customer Type: B2B, B2C, C2C
• Target market: Geographic, Behavioural 
The next step is to decide which social media platforms (Twitter, Facebook, LinkedIn, Pinterest, Instagram, TikTok, WeChat, YouTube…etc) are the most appropriate for the business, according to the style, features, and typical audience of the social platform.
After that, we need to set a marketing goal:
• Brand Awareness?
• Lead Generation?
• Engagement?
• Sales?
• Lead Nurturing?
• Customer Loyalty?
• Upsell/Cross-sell?
When a business has decided their social media marketing plan, a fully integrated platform for social media marketing, such as ClickDimensions, will enable them to carry out the full social marketing process from one place.
ClickDimensions passes social media interactions into the Dynamics 365 database which can trigger actions from Sales and assist the flow from Marketing activity to Sales activity.
Social Marketing sounds simple, but it is very hard to do it all without a proper tool that will find, generate and share content, create posts, track the responses and link all of this back to Sales. For a B2B business especially, social media marketing usually involves several parties which is extremely challenging if everyone is not working in a shared environment. The shared environment of Dynamics 365 overcomes these issues.
In this article, we will explore the process of social media marketing and how to do it easily with ClickDimensions within Dynamics 365.
1. Integrate Social Media Profiles
As discussed earlier, to maintain a better ROI, the choice of social media platform should be based on the market positioning for your company, e.g., Product Type, Customer Type (B2B, B2C, C2C), Target Market.
We are a B2B company, so our primary social media platform is LinkedIn, with YouTube, and Facebook as secondary platforms. No matter how many social platforms you want to use, with ClickDimensions you can integrate all social media platforms in one place. A business can also connect more than one company profile on one social media platform. For example, you might have business pages on Facebook based on different regions or different departments, these can all be integrated into the platform.
Once the connection to a social profile is set up, there is no need log-in to it separately. This means the copywriter does not need to struggle with logging in each time they want to make a post.
Social Media Integration Connector
Increase your Social Marketing Efficiency
Now you have the social media platforms ready for you to launch a series of campaigns. But what to post? Where to find inspiration? Lots of marketers struggle with endlessly coming up with relevant topics or content for SEO blog writing and social posts. Here is the answer for you. The ClickDimensions Social Platform allows you to find relevant content on the web and listen to other businesses social posts.
Content curation in this platform allows you to find content across Google.
You add keywords to follow the topics that you are interested in, the tool will find the latest related articles on Google and present them as a view for you to read and use.
Not only can you get inspiration and insights with your SEO copywriting from this feature, but it also allows you to share the article as a social post with one click!
Social listening in this platform lets you see other businesses social posts all in one place. These could be competitors or other businesses that you are interested in.
Posting something relevant is also crucial as it deeply affects the engagement rate. Keeping tabs on current social media topics helps to keep your posts relevant. Social Listening is the must-have tool for marketers to stay on the right track.
You can create your own real-time social listening streams, effortlessly tracking keywords, mentions, company pages and more. This can give you even more inspiration and enable monitoring of your competitors' social media activity. It is a simple-to-use and up-to-date tool for competitive analysis.
Content Curation x Social Listening = Online Marketing Hack
With the help of Content Curation and Social Listening, you can update and improve your own Social Marketing. For example, using Social Listening to monitor the most engaged topics of your competitors' social posts, then adding these topics as keywords in your Content Curation for more related information.
Content Curation helps you to create your own materials for blogs and social posts, potentially drawing more traffic to your website and an increased conversion rate.
A Marketing calendar, included in the platform, shows all the marketing projects, including scheduled social marketing posts. This calendar can be viewed by any Dynamics 365 user, so people are aware of ongoing Marketing activities, including social marketing.
Social Media Integration Connector
Increase your Social Marketing Efficiency
The Social Marketing Calendar
This is a social marketing calendar which show the scheduled social posts only. It enables the creation and scheduling of a post at your fingertips – Drag & drop the post for better social post scheduling.
For getting more impressions, you can refer to the following suggested timeslots based on the habits of the audience from each social media platform.
In this section, we will explore how to easily create a post both manually and automatically in a few ways.
Posting Manually with a unified tool
Simply click on the date you want to post; this will open a form to let you select the social platform and create your post. Here you can create a post on the different social media platforms as well as different business pages on the same social media platform. Manually add content to your post and save. The post can be made immediately or dragged onto the calendar to schedule it.
There are two ways to auto-generate a social post within a second to save you time and effort on the relentless social posting task. The Post Auto generator can be used 'In App' or 'Off App'. As the name suggests, the In App Post generator is available within the Social Platform. The Off App version is a tool you can download and use when browsing.
In-App Posting Auto-Generator
With this social marketing solution, you could create a social post with a blog that you have already written, perhaps based on something found through Content Curation as discussed earlier. With a few clicks, the auto-generator will grab text and images and create a post for you. This can be edited before posting, then scheduled.
1. Enter a URL (any webpage would do, even the websites are not yours) into the Social Post Generator

2. The auto-generator will smart-generate the snippet, the image and hashtag based on each social media platform

3. Boom, there is your auto-generated social post.
Off-App Posting Auto-Generator
Basically Off-App Posting Auto-Generator is very similar to the In-App Posting Auto-Generator. However, Off-App version is more convenient when you are browsing around.
When you are visiting a webpage that you would like to share as a social post, you just need to click on the Chrome Extension on your Google Chrome, then it will auto-generate a social post as we did for In-App version.
Apart from using advertising for your social posts to gain more exposure and engagement, Employee Advocacy can also play an important role in terms of social marketing since it can have huge benefits for Brand Awareness, generates more engagement and is more effective.
Cisco Systems Inc. says "Posts shared by employees are 8 times more effective than Posts officially shared by a brand. In turn, people are 16 times more likely to gain brand influence from relatives and friends than from official company pages!" That is why this marketing strategy has been a great hit for so many years.
ClickDimensions Social Platform has gamification features which allow you to capitalise Employee Advocacy easily and accurately measure the performance of Employee Advocacy.
Studies also show that with the right incentives and rewards for the employees who do well with Employee Advocacy, the ROI of this strategy tends to be higher than Social Media Advertisement.
The Social Post can be copied to the Advocates (Employees) board, so that the advocates (Employees) can share the Social Posts with a prepared content via Microsoft Teams very easily and conveniently. If the advocates want, they could also edit the content of the text of the post to build their personal branding.
You can quickly see who the most successful advocates are by sorting the number of conversions / engagement / posts qty / impression to decide who gets the reward!
Find out who is the champion of the Employee Advocacy program and study their activities for future Advocacy training.
In marketing, it is always of paramount importance to keep tracking the performance of campaigns for optimization and improvement.
To measure the ROI, conversion rate is the KPI often used. With this tool, you can define your own goal for a Conversion, such as landing on a specific Product Page, Newsletter Page, Lead Form Page etc. It also allows you to set up a customised scoring for different goals. For example, if the target customers visit your product page via some social posts, you could set 50 points as a score (You set the score for each page). We have set our 'Thank You Page', up as 5000 points, as it has more value than visits to the product pages without any actions. Our 'Thank You' page is reached by anyone who submits a contact form.
This view gives you insights about which campaign has a better performance in terms of conversion rate. Companies could exploit this data for better decision making on budgeting, marketing focus, product refinement etc. You would see which social media platforms have more potential and return.
Sales & Marketing Consultation
Find Your Best Marketing Practices
Apart from the analytics you see in the tool, analytics could also be incorporated in your Microsoft Dynamics 365.
Some of the data could be used in Power BI charts and set it as Page views in your Microsoft Dynamics 365 Dashboard. Contact Us to implement this cutting-edge strategy now.
For social marketing, content and referral are vital, however, responding to your audience (prospects) is also important for the nurturing journey as it could lead to a direct sale.
With this tool, you could easily manage multiple audience channels at one place. Checking for posts that require a response or some action from your business.
This tool integrates all your social media platforms, which means your Customer Service team, Sales team and Marketing team would no longer need to open different tabs to monitor all the social media platforms' messages.
Messages that come into the business from social media, can be assigned to different people within the organization. For example:
Language & Region: If you receive a message with French, you might consider assigning this message to your colleague who also speaks French
Product & Service: When a potential customer reaches out to you, you could assign the message to someone has the relevant product knowledge.
It is universally acknowledged that your responsiveness to your potential customers will increase the successful rate of a sales.
You can also see when you company page is being @ tagged / mentioned, which allows you to reply to their post more swiftly – it provides you a more convenient way to manage everything. No more missing out any opportunities!
There are two ways to engage with your audiences' comments.
When your audience have commented on your posts, you could also reply or like their comments on here.
Streams (Social Listening)
We have explored the benefits of Social Listening earlier, however this feature does more than that. It is also another method for you to engage and nurture prospects – view and respond to comments on your social posts from a unified stream.
In this day and age, executing social marketing is indispensable. Having so many plates spinning at once makes it hard to do everything properly and it is easy to miss things. You might wonder how your competitors are pulling this off ,the truth is more and more companies are using this fully integrated social media marketing tool to achieve brilliant results.
Sales & Marketing Consultation
Grow an efficient and successful social media marketing now