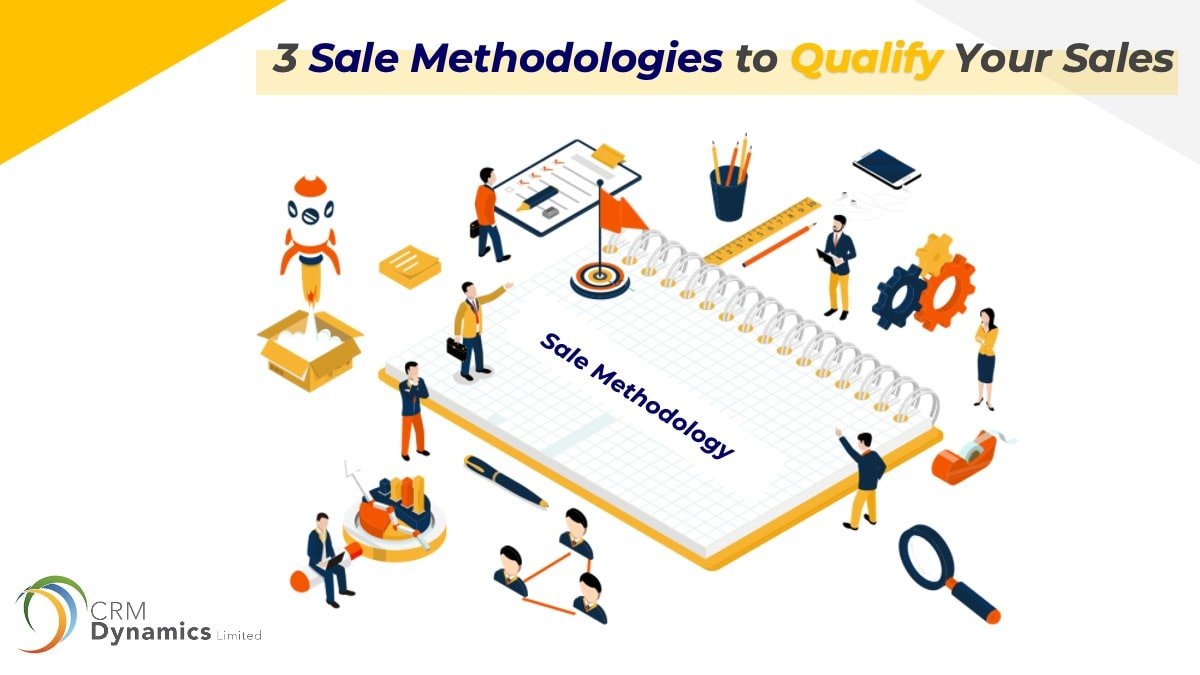 10 Mar

3 Sales Methodologies to qualify your Sales

Posted at 16:15h

in

Sales
The implication of Qualification:
3 Sales Methodologies to qualify your Sales
This time we will be looking at three leading methodologies for helping you qualify your sales. 
Qualifying your potential leads/prospects correctly and early avoids wasting resources on deals that you have little chance of winning, or are not good business for you. This then means your sales team have more time to concentrate on better, more profitable business.
Here, we look at three methodologies that can be used to devise a version to meet your specific needs. Bear in mind that in our experience one size does not fit all, different sales cycles types require their application in different ways. There is a big difference between an add-on sale, a telephone order, a complex solution sale or an invitations to tender.
To avoid frustration, the CRM system should be configured to take into account the differences in sales cycle type.
Introduction to 3 Sales Methodologies
Budget – do they have a budget, if not when will it be provided? 
Authority – do you have access to the decision maker and influencers? 
Need – what problem are they trying to solve? 
(Be sure they are not job seekers, researching or trying to sell you something.)
Timeframe – when do they want to make a purchase decision?
The Target Account Selling (TAS) model is based on 4 key questions.
• Is there an opportunity? 
• Can we compete? 

This model is quick to remember and deals with the Go/No Go decision. The last question "is it worth winning" is particularly powerful because often a deal can appear winnable but may still not be worth pursuing. 
This model uses more elements and as a result can provide much richer information about a potential deal. Each of the elements prompts 2 or more questions that should provoke answers.
1. Do they like our solutions?
2. Are we bidding a new service?
1. Are too many firms bidding?
2. Does the prospect express a negative bias?
3. Does the competition have any significant advantage? 
1. Has the prospect committed our USPs to his selection criteria?
2. Has the prospect committed time to examine our strengths?
1. Has the prospect accepted our timescales?
2. Are the prospects plans realistic?
3. Is the decision or implementation too far away to be worthwhile?
1. Is the job or account potential big enough?
2. Will the job demand more resources than we can offer?
1. Are the fees within the prospects budget?
2. Is the budget realistic?
3. Are we much more expensive than the competition?
1. Are we talking/can we talk to the decision makers?
2. Do the decision makers know that there is a decision to be made?
3. Do we have a bad history/rapport with the decision makers?
4. Are consultants involved in the decision? 
5. Do we have an inside salesperson? 
1. Have we agreed the (business) case for the engagement?
2. Have we agreed a decision timetable with the prospect?
Each of these models are part of an effective sales operating model. We help clients define operating models that work in their specific environment. A sales operating model defines key elements of the sales responsibility, including:
CRM Dynamics Ltd has a solution called sales coach which is a useful coaching tool to be used by sales and sales managers. 
This add-on solution that helps organisations apply any methodology, it comes with its own pre-set methodology but this can be modified to suit your specific needs.
Sales Coach – Methodology Solution Dynamics 365
Also, CRM Dynamics Ltd has Solution Selling Methodology Template that can be modified to meet an organisation's specific needs. 
The template configures the Dynamics CRM system to help users control and plan solution selling strategies. It also provides an ideal framework for sales managers to coach sales people on how to build value and improve sales performance.
If you would like more information about integrating Dynamics 365 with other business systems, please get in touch by emailing us at [email protected] or calling us on (01908) 929555. Alternatively, fill out the form below and one of our expert consultants will be in touch shortly.