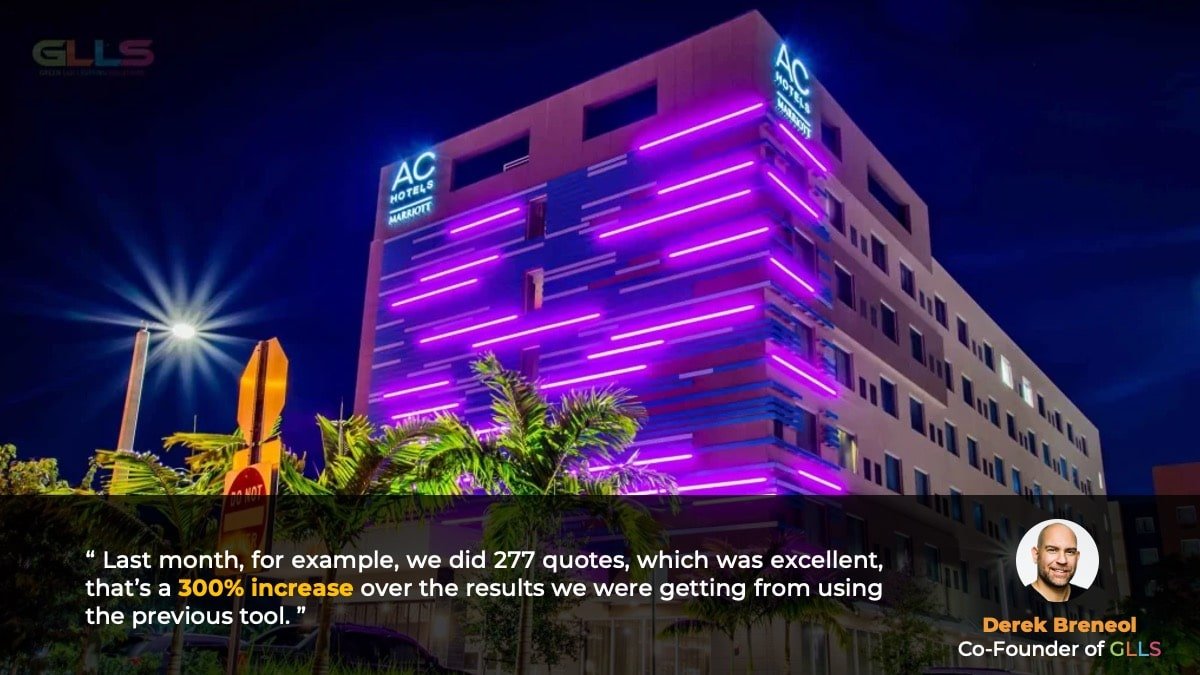 25 Nov

Case Study: GLLS (USA company) | Quote Manager CPQ for Microsoft Dynamics 365
CASE STUDY:

GLLS (USA company)
"Last month, for example, we did 277 quotes, which was excellent, that's a

300% increase

over the results we were getting from using the previous tool."
GLLS (Green LED Lighting Solutions) is a US-headquartered company that provides energy-efficient, environmentally conscious LED lighting solutions. Its flagship products, LED Neon Flex, mimic the appearance of traditional neon fixtures and the company also supplies LED Light Panels and Light Boxes for retail and residential use. GLLS has been in the lighting industry for over 10 years and has many notable clients, including the Oscars, Sephora, Disney and Microsoft.
What were the challenges?
GLLS has over 8,000 different LED lighting items or SQUs (stock-keeping units) with variations in colour, length and so on. The company uses Microsoft Dynamics 365 CRM but found it difficult to create quotes efficiently for its customers and prospects within Dynamics.
The company therefore invested in a third-party CPQ (configure/price/quote) tool for use by the sales and technical teams, but it operated outside of Dynamics 365. This meant that, in order to create a quote, users would have to open up the tool, input and edit the details and then save it back into Dynamics.
This was time consuming and inefficient and created a lot of unnecessary legwork for the team. The best they could achieve was around 90 quotes per month – a figure that the company wanted to improve significantly.
Derek Breneol, Co-Founder of GLLS said: "With the previous system I was constantly being told by the team that it was taking too long to create a quote because the software was inefficient. That clearly wasn't acceptable."
The solution: Quote Manger CPQ
In order to make quoting more efficient, and maximise its investment in Dynamics 365, GLLS sought a new solution that was native to Dynamics – and found Quote Manger CPQ from CRM Dynamics.
CRM Dynamics' experts reviewed GLLS' existing processes and demonstrated that Quote Manager CPQ would be able to meet many of the company's quoting challenges.
Derek Breneol explained: "CRM Dynamics provided the 'bigger picture' in terms of making our quoting processes more efficient within the Dynamics 365 environment. It was a very thorough review and they did a great job in advising us on how to crack some key issues."
He added: "What is impressive about Quote Manager is that it's built to operate natively within Microsoft Dynamics 365 itself, so we recognised that we didn't have to jump from one system to another to create a quote."
CRM Dynamics was able to help with the rapid implementation of Quote Manager CPQ. Currently, two teams are using the tool – the sales team are quoting for smaller projects and the technical team is quoting for larger installations that require drawings or blueprints.
CRM Dynamics is an excellent company to work with, they are extremely responsive and we have had a very good experience working with their team.
Although GLLS has only been running with Quote Manager CPQ for a few months, there has been already a considerable uplift in the number of monthly quotes it has been able to process.
"Last month, for example, we did 277 quotes, which was excellent," said Derek Breneol. "That's a 300% increase over the results we were getting from using the previous tool – plus Order Management CPQ is a lot easier to use. The reporting is also much better and our quotes look so much more professional."
Product filtering is one of the benefits of using Quote Manager CPQ, according to Derek Breneol. "We can filter the 8,000 SKUs we have and then add the accessories, such as power supplies, that correctly match them. It's a major task integrating all of that together, but Quote Manager CPQ has made it a breeze for my team."
Adding images to quotes using Quote Manager CPQ has also had a significant impact, as Derek Breneol explained: "Being able to show an image of a lighting fixture avoids a lot of issues and misconfigurations – customers can see how a wire terminates, and what accessories are included, just from the image. That is something we really needed to show to clients in our quotes and the CRM Dynamics' solution has enabled us to do that. It makes a big difference."
He concluded: "CRM Dynamics is an excellent company to work with, they are extremely responsive and we have had a very good experience working with their team."